Jessica Caldas, Puerto Rican American artist, advocate, and activist always knew that art would be a part of her path.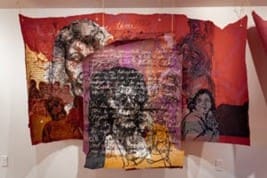 Growing up in an artistic family where the arts were always supported and present, Caldas never hesitated in pursuing her dream of being a full-time artist.
Throughout her artistic journey, Caldas became inspired by her outside work to tell real experiences of hardships in order to stimulate the difficult conversation surrounding trauma.
"I started working for a domestic violence project and it was through that project that I developed the voice and vision for my practice as an artist, says Caldas. "I was making work that dealt with challenging experiences and topics in a way that was meant to be both accessible and illuminating in terms of talking about the things that people don't talk about because they are hard or there is stigma associated with them."
Caldas credits these works for teaching her to remember how complex our experiences as individuals are and the capacity that people have to be vulnerable and share themselves through art.
"There's no easy way to talk about these things, and I think it is humbling in a lot of ways when providing this kind of work, says Caldas.
"A lot of people experience my pieces in a different way, which I think is incredible; sometimes they understand the story I am trying to portray, and sometimes they say, 'Well I see that, but also, here's what I am experiencing from this work.'"
Through her hard work and dedication, Caldas recently wrapped up her first solo exhibition at the Art & History Museums of Maitland entitled CORPUS DELICTI.
"I have to say that working with the team at [The Art and History Museums of] Maitland has been incredible, says Caldas. "I've never felt so seen and understood by a group of people who have just really embraced me as an artist but also my work and all the challenges it can entail."
This exhibition 'incorporates paintings, drawings, collage, performance, and enormous soft sculpture installations — including a new sculpture, Milk Bath (Graces), created specifically for the space. The exhibition is complemented by writings by women from the Caldas' life – family members, mentors, and fellow artists who made an impact on the body of work, as well as artifacts from her artistic process.'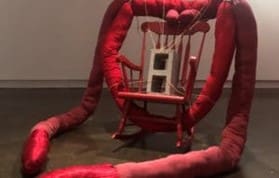 "I honestly believe the stories are the most powerful parts of the work because it makes it that much more impactful," says Caldas.
From the Milk Bath (Graces) sculpture centering around labor and care in relation to gender dynamics and identity issues to The Matriarch's Timeline representing a walk-through of her mother's life detailing topics from love and care to poverty and violence, the pieces within the CORPUS DELICTI exhibition focus on the generational struggles and triumphs of women.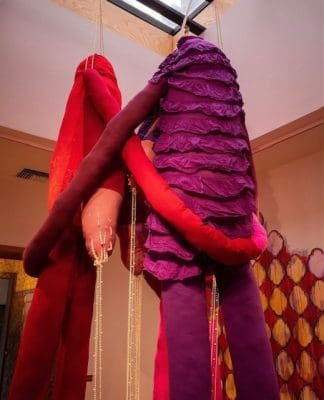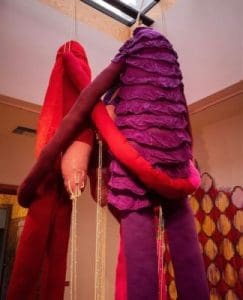 "When creating these pieces, I was thinking a lot about the trajectory of my work and the conversation from representing trauma, says Caldas. "I was trying to picture a world that is better and filled with more care, but still presenting that as something that is not an easy answer but one that is complex and comes with its own kind of labor."
Now that the CORPUS DELICTI exhibition has concluded, Caldas is now focused on developing a new exhibition for the Museum of Contemporary Art of Georgia, as she was named one of the 2022-2023 MOCA Georgia Artist Fellows.
"This upcoming exhibition will be developed as an extension of my Tired Bodies work," says Caldas. "One that explores motherhood, labor and care, and the idea of picturing a world where all of that is wonderful and loving but still presenting the complicated reality and toxicity of the culture that we live in."
This exhibition will be presented in June/July 2023 in Atlanta, Ga.
To follow Jessica Caldas and stay up to date on her work, visit: http://jessicacaldas.com/