Cole NeSmith is a Florida-based artist and founder of the Creative City Project, an organization "birthed out of the belief that artists can change a city for the better by making it a more beautiful, meaningful, and interesting place to live."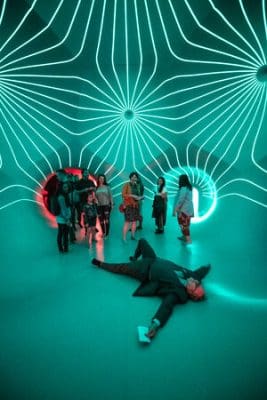 NeSmith has produced hundreds of public art installations, which began with his and Josh Owen's "Tree of Light" installation in 2011.
The "Tree of Light" was a public art installation designed to spark community conversations about environmentalism and environmental justice. The project began in 2011, was installed in 2012, and was a staple in Downtown Orlando for over seven years. To help fund his project's creation and display, NeSmith applied for an Individual Artist Grant through the United Arts of Central Florida.
"The first grant I ever received was an Individual Artist Grant from United Arts back in 2012," said Cole NeSmith, founder, and artistic director of Creative City Project. "As we've continued on, thousands of artists have joined us, and tens of thousands of patrons have encountered the meaningful experiences those artists are creating in the streets and public spaces of the city."
NeSmith's vision for the "Tree of Light" was to create an interactive art installation that would celebrate the beauty of nature and inspire people to think about their connection to the environment. The project's centerpiece was an illuminated tree made from recycled materials and metals, which benches and interactive displays could surround. The goal was to create a space where visitors could learn about the environment, contemplate their impact on the planet, and discuss ways to contribute to environmental justice.
United Arts of Central Florida put its Individual Artist Grant on pause in 2014 and reintroduced them this past week at the Crealde School of Art. This grant program intentionally supports professional artists in the community and aims to generate a stronger local arts ecology. "I can't believe it's been almost a decade since this has been available to our community" Cole noted.
Cole NeSmith started with an Individual Artist Grant, and now he continues to focus his passion for creativity and community connection through his organization, Creative City Project. With collaboration between local businesses and organizations, NeSmith has taken his individual ideas and crafted a meaningful and impactful community to last.
Learn more about Creative City Project Here