This is always such an exciting issue — anniversaries to celebrate, new seasons including a few premieres, inaugural partnerships and people who are making a difference every day in our cultural community. No one is resting on their laurels. And, you may have noticed, we have a bit of news of our own — a new name!
Say what? After 25 years, we've launched our Season Preview Issue — the largest and most comprehensive to date —with a new name that we believe captures our mission to elevate arts and culture by telling stories to those who live, work and play in our community.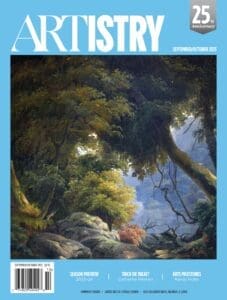 It will take some time to get used to saying Artistry magazine — you know, an old dog, new tricks kinda thing.
In addition, to honor the magazine's 25th birthday, five local artists were selected to create installations using previous covers. Thank you to our generous partners, Fairwinds, Ginsburg Family Foundation, Visit Orlando and Winter Park Publishing Company for sponsoring these public art projects for everyone to experience. We look forward to celebrating their creations in honor of the magazine's anniversary in the near future.
Speaking of exciting celebrations, Orlando Ballet is celebrating its golden anniversary with a season opener dubbed Reflections: A 50th Anniversary Celebration. Along with company's half-century history (page 28).
We've also gathered a few ghoulish outings for those of you who enjoy things that go bump in the night, including Creative City's Happy Frights and Haunting Nights at Harry P. Leu Gardens, Tales of the Undead by Phantasmagoria, Ghoulish Grooves by the CFCArts Big Band and much more (page 18).
Take some time marking the exhibits, shows and events that you don't want to miss in the coming months. There's so much to enjoy and experience. I also hope you'll embrace our magazine's new appearance — new bling for a new beginning. We'll always strive to capture and illuminate the vibrant breadth of our cultural community. Happy reading.
Moving forward with peace and grace,
Cindy Bowman LaFronz
Editor, Artistry